Archbishop Gabriele Caccia, Holy See representative to United Nations, preaches in presence of Chief Justice John Roberts.
Justice has to do with the sacred, and those who administer justice are at the service of something larger and greater than themselves, a top Vatican diplomat told Chief Justice of the United States John G. Roberts; U.S. Veterans Affairs Secretary Denis McDonough; university officials, and law students in the Washington, D.C., area, at the annual Red Mass on Sunday.
Roberts represented the Supreme Court at the Red Mass, which was celebrated by Cardinal Wilton Gregory of Washington at St. Matthew's Cathedral in the nation's capital.
The Mass traditionally is held at the beginning of the court year to invoke the guidance of the Holy Spirit upon the deliberations of justice. This year, the first day of the U.S. Supreme Court's term coincided with the feast of St. Francis, October 4. Archbishop Gabriele Caccia, the Vatican's representative to the United Nations, said in a homily that it was the first anniversary of Fratelli Tutti, Pope Francis' encyclical on fraternity and social friendship. He said that in it, Pope Francis proposes "a new version of fraternity and social friendship." The vision is based on the Gospel parable of the Good Samaritan, in which Jesus shows the way to not only care about those in need but to take responsibility for them. 
Archbishop Caccia quoted Francis' encyclical, which says, "The decision to include or exclude those lying along the roadside can serve as a criterion for judging" political, economic, social and religious domains.
"And, we can add, for evaluating justice too," Caccia said. "In fact, justice without fraternity is cold, blind and minimalistic. Justice infused by fraternity, on the other hand, never remains an abstract application of norms to situations; rather, it is transformed into an attentive application of laws to persons we care about. Fraternity is what makes it possible for justice to be perfected by mercy for all involved, since the restoration of justice is always ultimately the resolution of a 'family dispute,' considering we are all members of the same human family."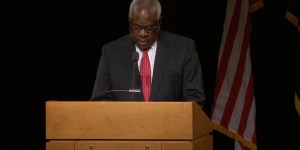 All content is property of the owner, unless otherwise specified. This content is not owned, or maintained by Holy Rosary, and is used only for informational purposes. Please visit the content owners link via the source link for more information.